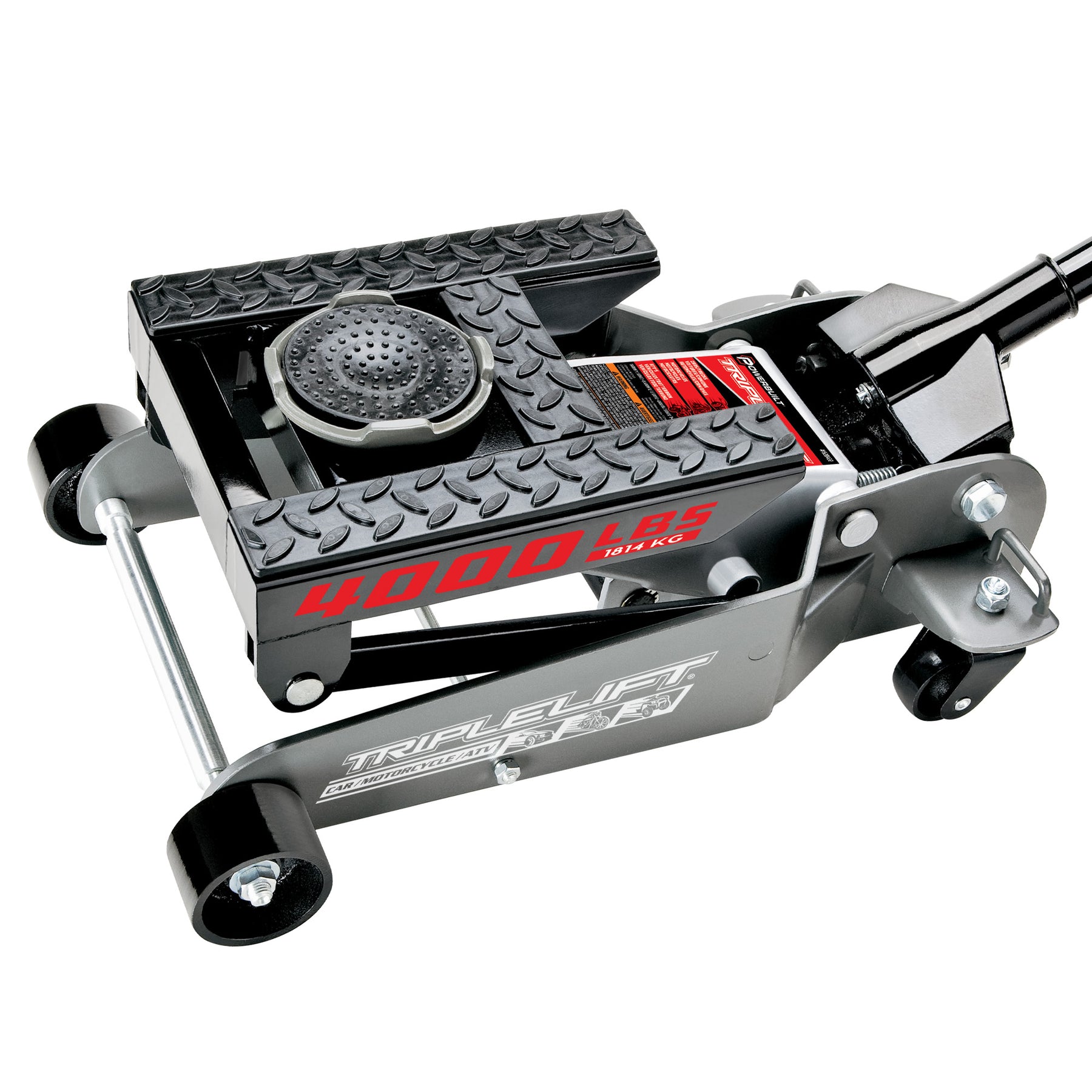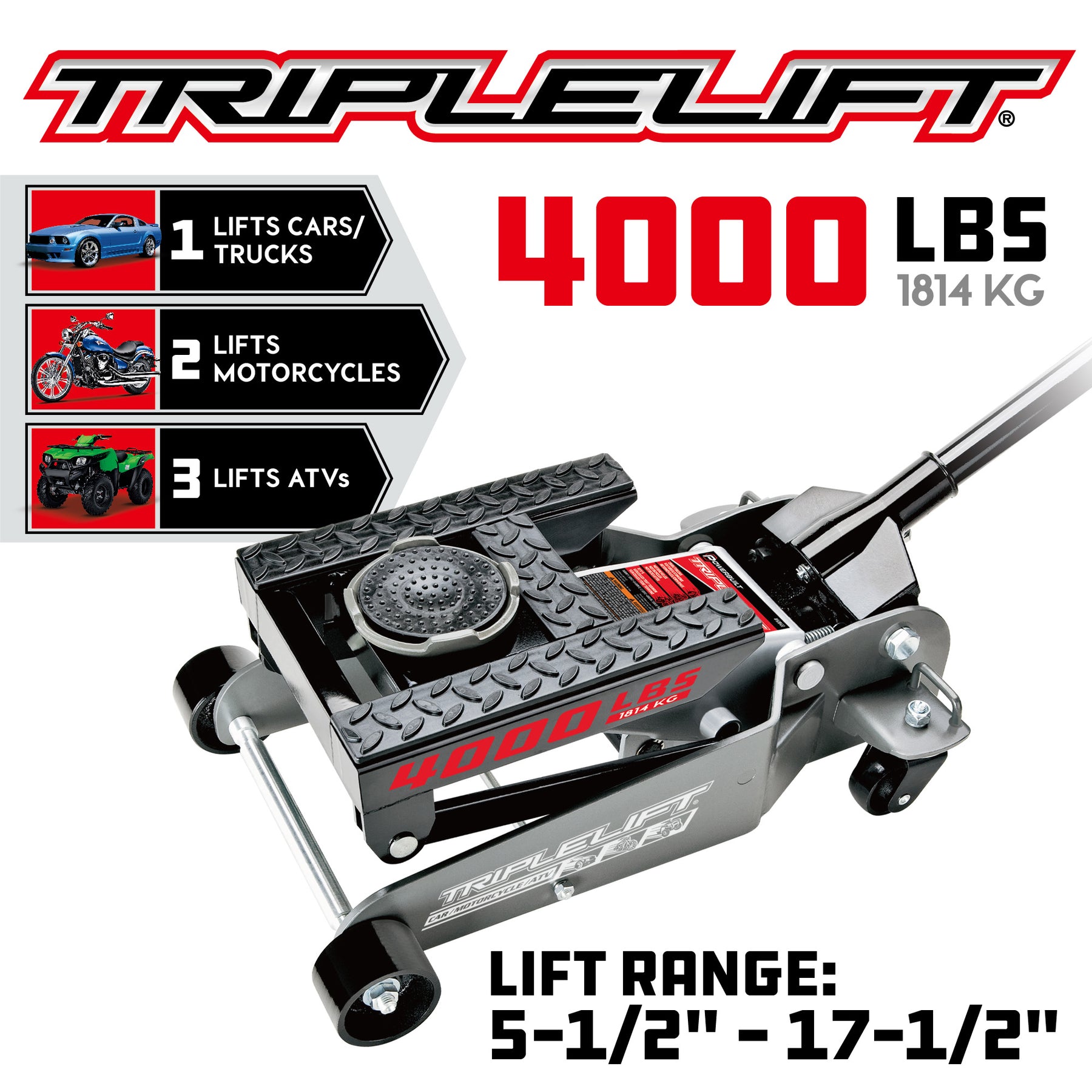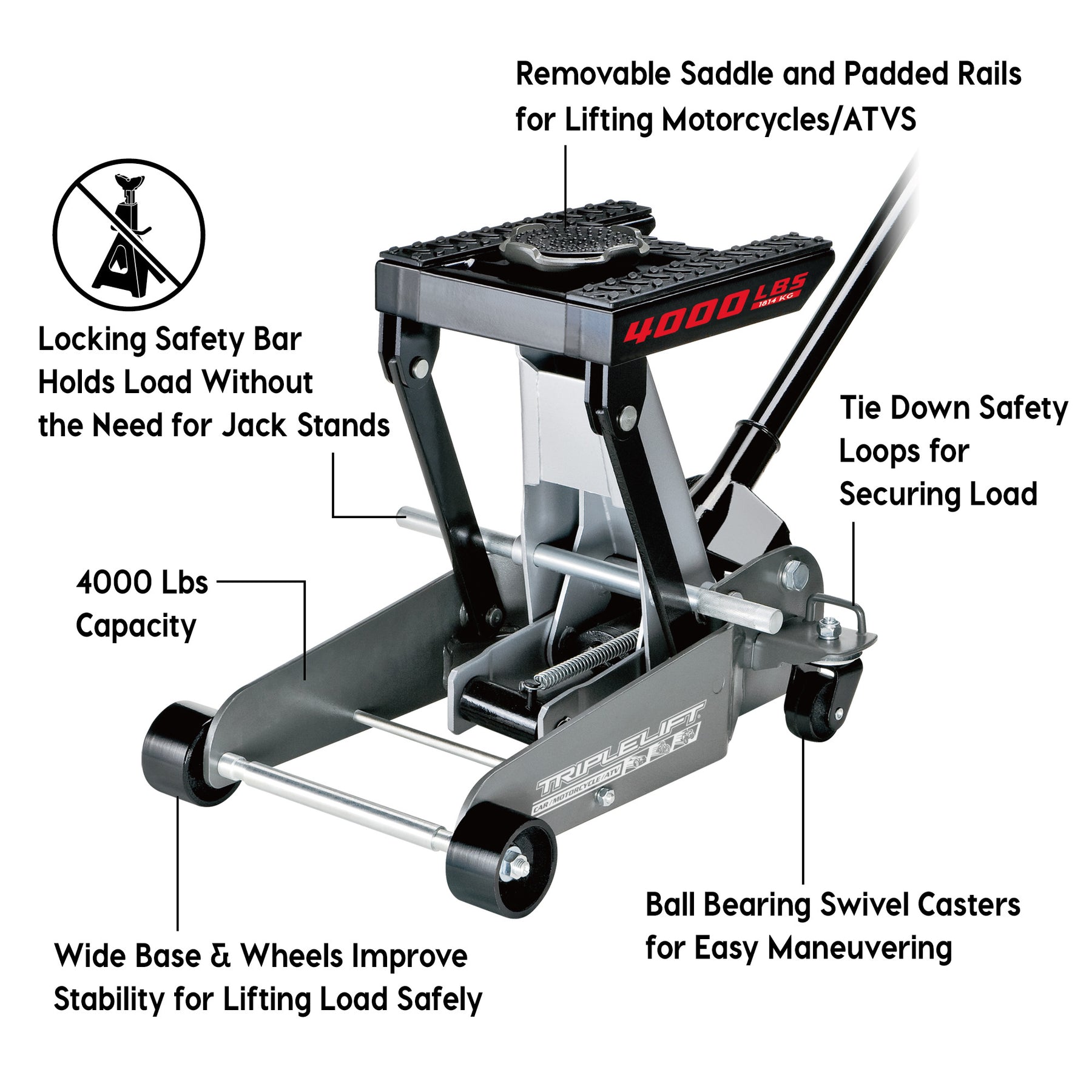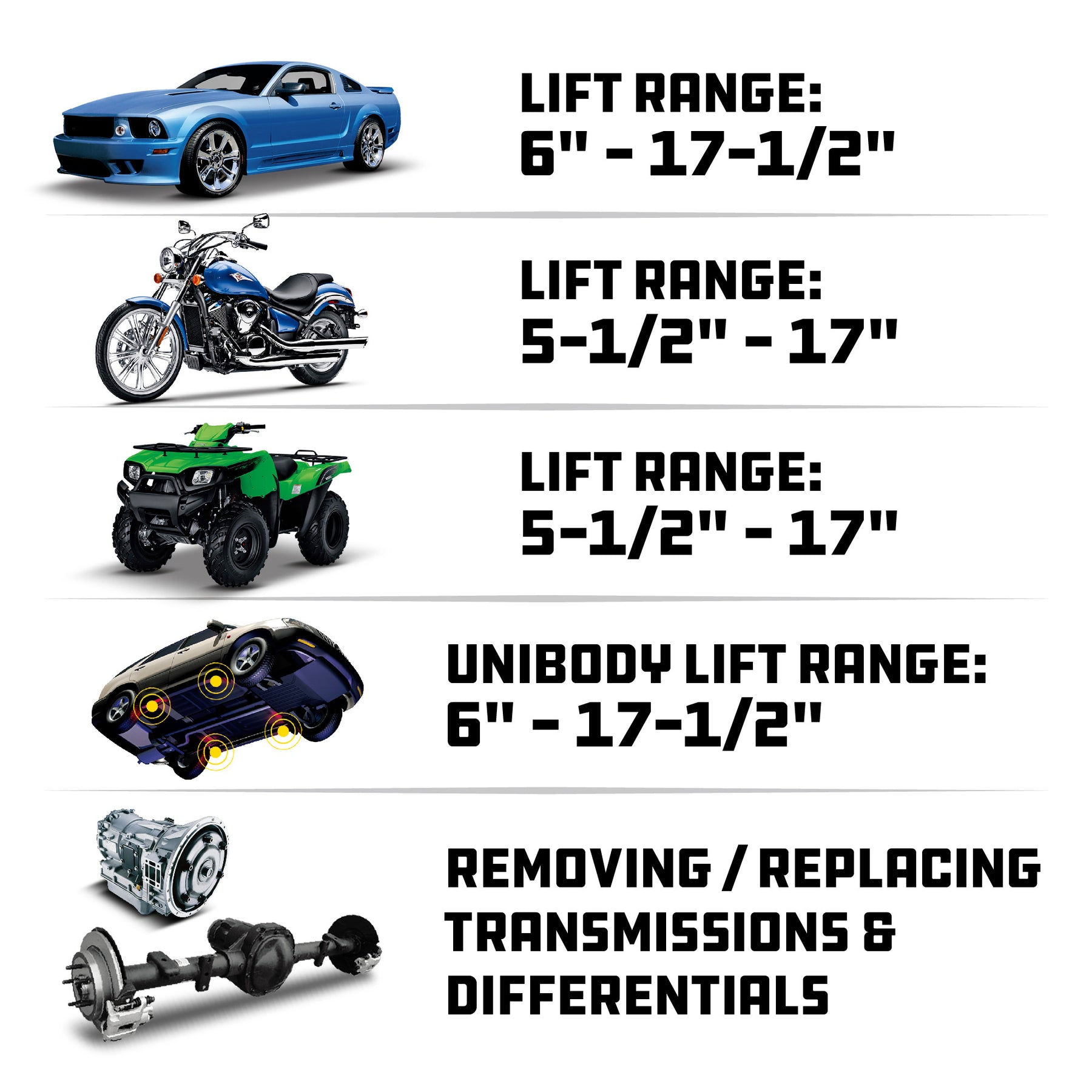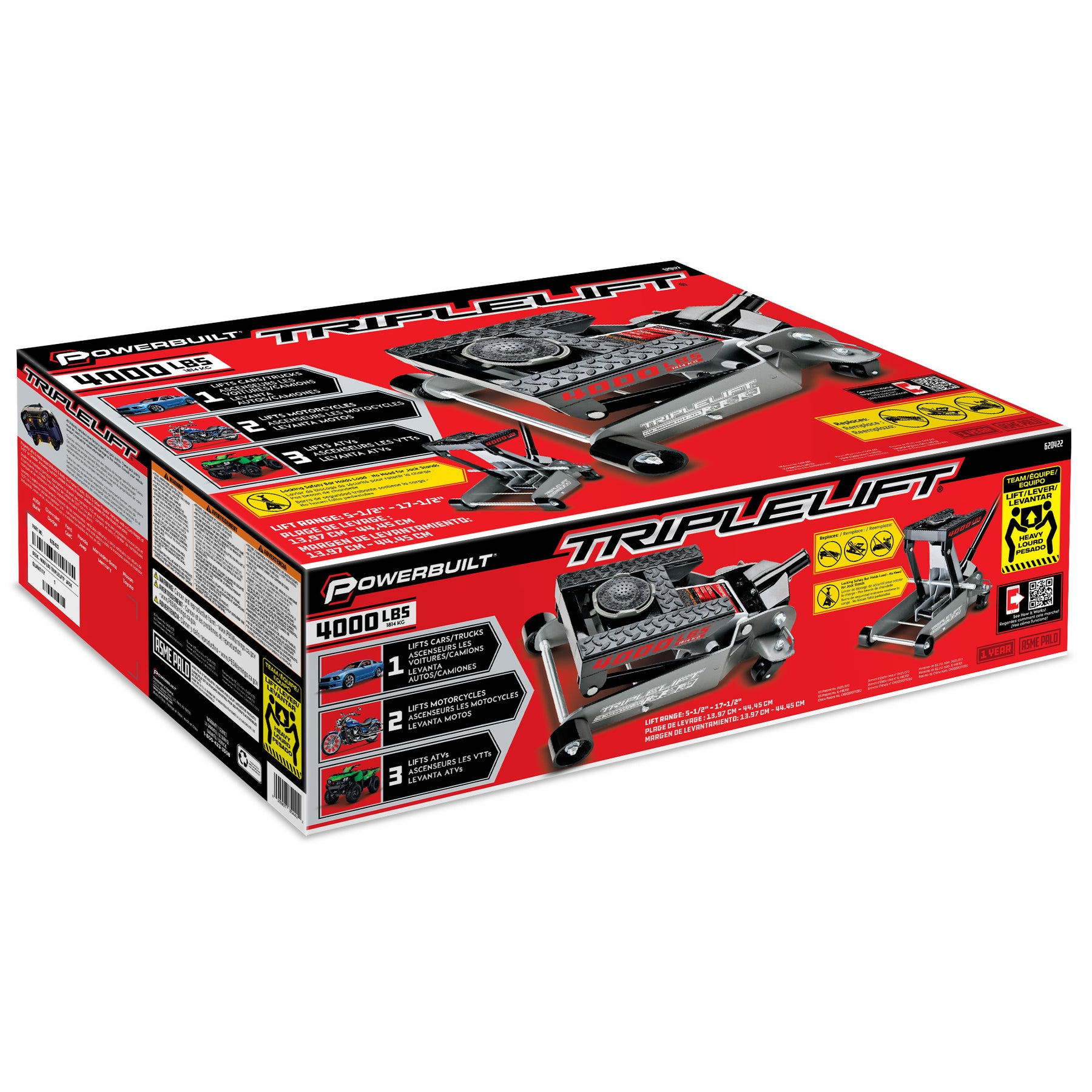 2 Ton Triple Lift Floor Jack
REPLACES MULTIPLE JACKS: The patented Triple Lift design fits cars, trucks, motorcycles, ATVs, lawnmowers, snomobiles, even some selected transmissions and rear ends.
WIDE LIFT RANGE: From a low of 5-1/2 inches (with the round saddle removed) to a high of 17-1/2 inches with the round saddle installed
ULTRA STABLE AND SECURE: Thanks to a wide wheelbase, the Triple Lift offers stability well beyond the average floor jack. For even more security, use the included tie-down loops with your tie downs to secure the load
NO NEED FOR JACKSTANDS: Slide the included safety bar in place and the Triple Lift is locked in the raised position
STRONG AND DURABLE: tested and certified to meet or exceed ASME and PALD standards.
Get rid of your floor jacks, motorcycle lifts, and ATV jacks. The 2 Ton Triple Lift jack is three jacks in one! This innovative jack has a patented design that lets you lift cars, trucks, motorcycles or ATVs with ease. The Triple Lift slashes the expense and hassle of purchasing, maintaining, and storing multiple jacks and jackstands. It's the one jack that easily lifts almost anything with wheels, and works on vehicle transmissions and differentials too. The secret to the Triple Lift is the patented design that features both a removable lift saddle and padded lift rails. This flexible design allows the Triple Lift to adapt to multiple types of vehicle frames. A locking safety bar holds the jack in place once the vehicle is raised, which eliminates the hassle of supporting a lifted vehicle with jack stands. Built-in tie-down loops make it easy to secure motorcycles in place for added stability. You can also use the Triple Lift to safely lift Unibody vehicles. The precision locking design keeps the jack from lowering once it has been raised, eliminating the need for a separate jack stand. Stylish, dependable, and affordable, Powerbuilt products meet or exceed ASME and PALD standards.